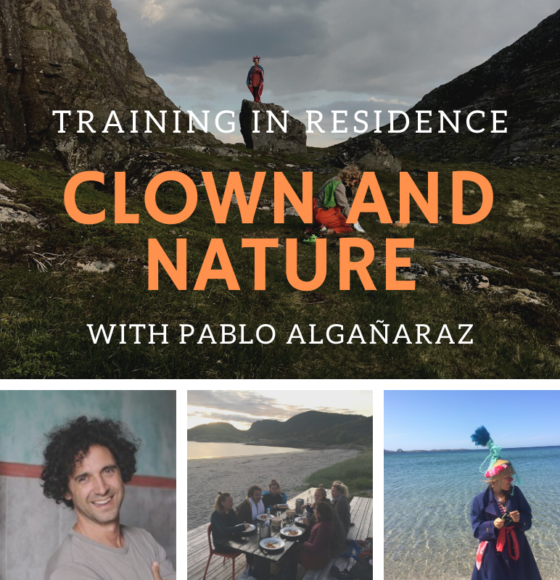 Om Workshop
A unique opportunity: In the nature of the magical island of Stokkøya we invite you to a clown workshop in residence with Pablo Algañaraz from Buenos Aires, Argentina.
In this workshop we will work the clown technique impregnated by the natural environment of the seacoast, the caves and the hidden corners of the island.
This will inspire to expand the connection of each person and his own poetic universe. The pleasure of playing and listening to our impulses aim to bring us to a state of clown presence.
We will deepen the practice of body dynamics and sound, being attentive to diversity of musicalities, rhythms and environments that come from ourselves and the natural surroundings. You are welcome to dive deeper into the art of clowning.
Come and make international bridges in a hidden treasure of an island.
A unique stay
Stokkøya is one of the most beautiful islands outside of Trondheim with a magical atmosphere that attracts artists and people from all over the world.
Surrounded  by the  ocean this place provides a beautiful unspoilt countryside with mountains, caves and lakes to explore. We will have the unique opportunity to gather at the most pleasant time of the year, during the white nights. With sunlight both day and night we are able to explore and get inspired by the beauty of the outside environment, being able to dive into our own poetic nature.
The residence will take place in Stokkøya Sjøsenter, situated next to Mid-Norway's  longest sand beach. The working place will be at different open-air locations. The work will also take place in the working room in the first floor of the guest house, where we will live together during the residence. You can see more pictures and information of the place here: http://stokkoy.no/ and http://www.bygda20.no/.
Price includes: Workshop + Accommodation + 3 Meals per day + Snacks for coffee breaks + Mindful yoga (optional).
This workshop is created by Ø art platform, in collaboration with Tove Karoliussen working freelance in Lille Karoliuss and Pustebobler, and cofounder of Sykehusklovnene,  and Agustina Pezzani, international  freelance artist currently working in Operação Nariz Vermelho-Portugal.
Instruktør
Pablo Algañaraz (Argentina), Actor – clown – teacher  
His training as an artist integrates studies with teachers from Latin America and Europe. Its main references are the workshops of Acting in the school of Julio Chavez, Essential Song with Iris Guiñazú and the School of Mime of Escobar and Lerchundi. He has trained Contact Improvisation, Acrobatics and Contemporary Dramaturgy. He has studied Buffoon and Neutral Mask; Masks at the Théâtre du Soleil with Ariane Mnouchkine and I Made Djimat. He was traversed mainly by Eugenio Barba's theatrical anthropology. His main clown teachers were Cristina Moreira, Gabriel Chamé Buendía and Sue Morrison.
As an actor he has worked for 10 years in the theatre companies Mixtratos, La Trup and Clun. Training and producing shows in theaters and on the street. He has performed in independent theatre projects and also in official theaters, staging shows in the «Complejo Teatral de Buenos Aires». He has participated and organized numerous evenings around the clown universe. His clown show  "Quizás quiso decir» has been performed for six years. You can read more about him here.
He has been teaching since 2002. He offers annual and intensive workshops in different formats that include residencies for training and creation. In addition to touring Argentina he has given workshops in Uruguay, Brazil, Panama, Costa Rica and Norway.
Deltakerkriterier
Åpent for profesjonelle deltakere, dvs. med godkjent treårig utdanning på høyskolenivå, eller tilsvarende profesjonell erfaring, med følgende bakgrunn:
Open to professional actors, dancers and performing artists who want to get in contact with clowning or explore deeper into it.
Sted
Stokkøya Sjøsenter, Hosnasand, 7178 Stokkøya
Reisestøtte
Vi har som mål å være et kompetansesenter for skuespillere over hele landet, og Norge er et langstrakt land. Derfor kan du søke oss om reisestøtte dersom du har fått plass på et av våre kurs/arrangement og du bor langt unna stedet der det gjennomføres.
Søk plass
Info and registrations: clownandnature@gmail.com.
CV is mandatory.