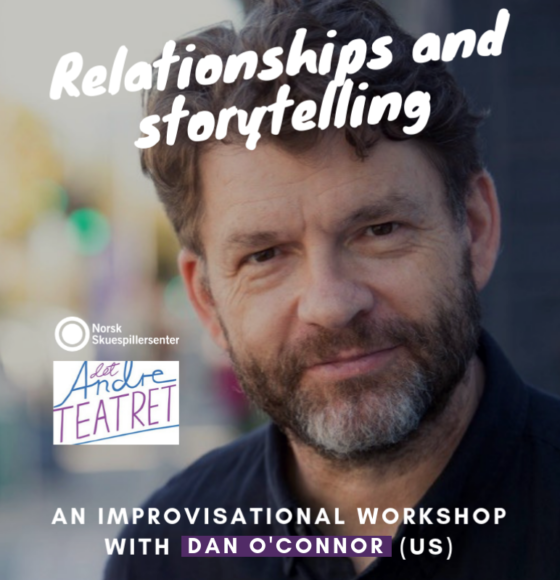 Om Workshop
WE PROUDLY PRESENT TO YOU ONE OF AMERICA'S GREATEST IMPROVISORS!
Det Andre Teatret has been so fortunate to have Dan and his group over several times, and every visit has truly been inspiring and educational for the actors at the theatre. Dan has an extraordinary ability to find the genuine moments in a story, make them expand, for then again dissecting them with a precise and skilled eye. And this time we get to share him with you!
Focus for this workshop
Relationships on stage that lead to a story. You will start by looking at an improviser's relationship to him/herself and to the other performers. How do all the improvisers on stage relate to each other? What is needed to build great theatrical relationship on stage?
The workshop is suited for actors who are curious on the art of improvisation and spontaneous storytelling. It is constructed with different exercises and games and through them you will work with basic elements of improv. No impro experience is needed to take the course.
Why improvisation
Learning about improv is a great way to train your fears away.

– Cathrine Frost Andersen, skuespiller og improvisatør
Improvisation helps you to be intuitive and spontaneous in your work as an actor, when creating your character and working with the written word. It can also give you a stronger sense of autonomy and ownership throughout the rehearsal process.
One of the main structures in improvisational technique is to embrace your fears and to own our own choices and ideas. To have the courage to try them out wholeheartedly, and at the same time happily throw them aside if they do not work.
Improv also trains your ability to be present in the moment, to «Get out of your head» and use that ability to create strong theatrical relationships, on stage, together with your scene partner.
The workshop will be held in English.
Members of Norsk Skuespillerforbund pay a reduced participant fee.
Instruktør
Dan O'Connor has been teaching improvisation for more than 20 years. He recently presented at TEDx Napa Valley. He has directed and taught Improv and theatre companies all over the world. He has taught for the Writers Program at the UCLA extension. UCSB (Writing-by-the-Sea Program) DUKE and Pepperdine Universities.  He was an adjunct professor for USC 's BFA program and has also taught in the MBA Program for the University of Texas McCoombs School of Business.
He has taught the Cirque du Soleil casts of Salitimbanco, Corteo, LOVE and Zumanity.
Dan is the founder and Producing Artistic Director of the critically acclaimed Impro Theatre.  He is a co-founder of BATS Improv in San Francisco and LA Theatresports.
His work with Impro Theatre includes theShakespeare UnScripted at the Carrie Hamilton Theatre @The Pasadena Playhouse, North Coast Rep, the Odyssey Theatre, the green show at the Oregon Shakespeare Festival in Ashland, Tennessee Williams UnScripted at South Coast Rep and the Odyssey Theatre, The Western UnScripted at the Falcon Theatre and Laguna Playhouse, Sondheim UnScripted at The Oregon Shakespeare Festival and this fall at the Falcon Theatre, Jane Austen UnScripted and the 1966 Holiday Variety Extravaganza at the BROAD STAGE.
Deltakerkriterier
Åpent for profesjonelle skuespillere, dvs. med godkjent treårig utdanning på høyskolenivå i utøvende skuespillerkunst, eller tilsvarende profesjonell skuespillererfaring.
Sted
Workshopen holdes hos Det Andre Teatret i Ivan Bjørndals gate 9
Reisestøtte
Vi har som mål å være et kompetansesenter for skuespillere over hele landet, og Norge er et langstrakt land. Derfor kan du søke oss om reisestøtte dersom du har fått plass på et av våre kurs/arrangement og du bor langt unna stedet der det gjennomføres.
I samarbeid med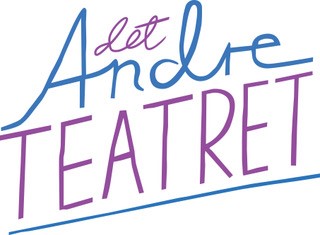 Søk plass
Innsendt søknad er bindende, og du må oppfylle for å kunne få plass. Du vil få svar på søknaden innen to uker etter fristen.