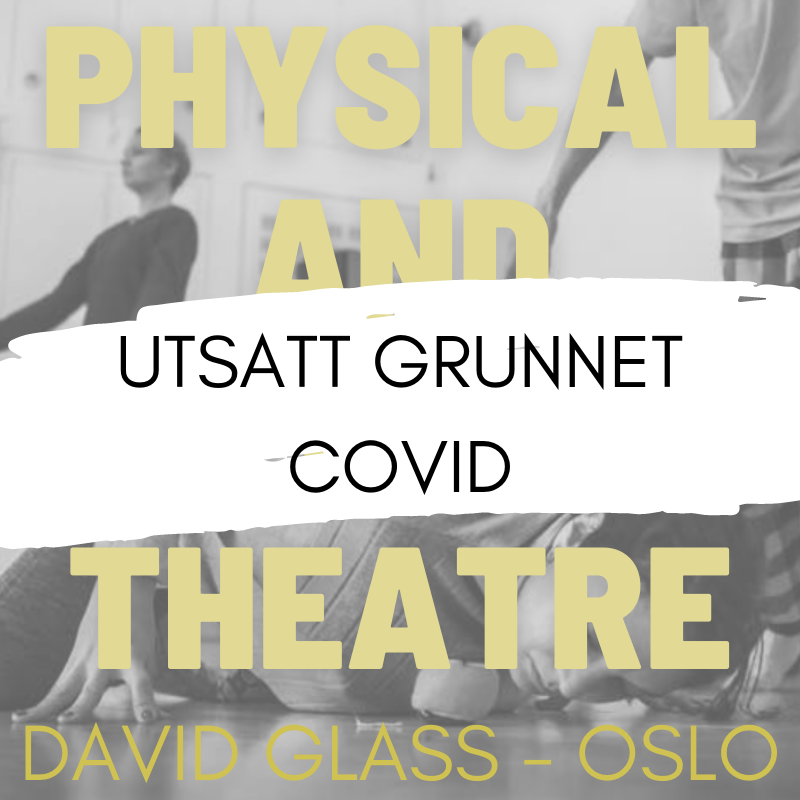 David Glass
Physical and Devised Theatre
Pris

1450/1250

Startdato

28/09/2021

Sluttdato

01/10/2021

Starttidspunkt

09:00

Sluttidspunkt

17:00
Søknadsfrist: 22. aug 2021
Det er med tungt hjerte at vi har besluttet å utsette dette kurset. Det er per i dag ikke mulig å arrangere kurset på grunn av covid og smitterestriksjonene ved innreise.
Vi prøver å få til kurset ved en senere anledning. De som allerede har søkt på kurset vil da få beskjed.
Let us fail at excellence, not succeed at mediocrity – David Glass
We are thrilled that we can offer you this exclusive opportunity to attend a workshop with the world renowned and highly acclaimed performer, director and theatre teacher David Glass (UK). 
This is your moment to immerse into physical and devised theatre work!
The 4-day workshop with David Glass will give participants a practical approach to physical and devised theatre, and tools to achieve a greater presence on stage. Working through the Five Stages of Creative practice Method developed by David Glass himself will help you achieve greater, clearer and stronger presence and versatility on stage.
The Five Stages
The five stages gives the participant a practical approach to physical and devised theatre, and gives the artist concrete tools to achieve a stronger presence on stage.
The workshop trains through five modes:
Tools
Skills
Attitudes
Behaviour
Quality of Person.
The participants will come away with real tools, skills and insights that they can use immediately in any creative setting.
The workshop will strengthen the participants self-awareness as an artist. You will as participant gain clear insight in a practical approach to physical theatre and devising.
You will walk away from this workshop clearer, lighter and sharper.
David Glass is one of the world's great theatre teachers – Mike Alfreds, founder of Shared Experience
About David Glass and his teaching
David Glass is an extraordinary teacher. He uses 'integrative learning' circles to help participants include what they already know into new ways of seeing, experiencing and reflecting. He sees learning not as an 'outcome' but part of a holistic process that grows throughout a creative life.
David Glass has performed, directed and taught in over sixty countries. Trained at the Lecoq School in Paris, he has worked as a soloist performing in forty countries then establishing the David Glass Ensemble winning international awards including TMA award for best director.  All of David Glass' teaching is rooted in practical tool and skill theatre learning, developed over a life time of training thousands of students around the world.
"He has a unique imagination and a truly political provocation. David makes theatre about things that matter."
–Paule Constable, Olivier and Tony Award Winning Lighting Designer
"David Glass's Creative Practice is a unique and courageous exploration of the archetypal experience of being human."
-Peter Brook, International Theatre Director
"I am inspired by David Glass'  thinking and experience and community in the theatre… his objective is vital and true."
-Mark Rylance, Actor
Practical information:
You have to bring a notebook, a tennis ball and anything else you may need personally
Wear comfortable clothes to move in
 You will work in your mother tongue with text, but you have to be able to communicate in english